EX200 8 exam practice questions 2022 .
The very first time you saw the Linux command-line interface, what was your reaction? I would love to, as others too would love to read some of your answers in the comment section below.
The Linux operating system, as most people, especially young people who are new to the IT world would say it's a bit challenging could actually really be if one doesn't have a good training platform or a good trainer or even a good foundation of it.
Hence, this blog site has taken it upon itself to teach everything about Linux from the very basic, the very foundation to make you understand every bit of it and simplify everything that may seem challenging.
TekNeed is a website that simplifies Linux solutions and training in its simplest way possible so you can easily understand.
Most articles on this blog site are grouped into two sections. The first section is "UNDERSTANDING THE SUBJECT MATTER". This section thoroughly explains the concept of the subject matter. It's mostly a section for people that don't have a clue or don't really understand the subject matter.
People who also want to know more about the subject matter and not in a hurry to fix a solution can also go through this section.

The second section is "ACTION TIME". It thoroughly shows the step by step guide of the subject matter.
This section is mostly for those who already have the concept or have an idea about the subject matter but needs to quickly use the step by step guide to fix problems in their organizations or for their respective uses.
The two sections are recommended for students, especially if the subject matter falls in a series of training categories.
There are different series or categories of training on this site such as Linux from scratch, RHCSA, LFCSA, RHCE, LFCE, Suze Linux, etc. You can go through any series of your choice.
From our research, new users on our site find it challenging to navigate through the RHCSA 8 ex200 exam practice questions & answers.
Hence, we have decided to share the links in just one post, as usual, the same way we did for the Learn Linux From Scratch Series and the RHCSA Course Series.
Please note; at the end of every lesson, you can also click the link to watch the lesson videos. You can also subscribe to our YouTube channel or our newsletter to get updates on new questions and the RHCSA Examination.
Don't forget to turn on the notification button when you subscribe to our YouTube channel. Thanks.
You can also get the Premium practice questions and answers here and enjoy the benefits of premium.
RHCSA 8 Exam Practice Question 1
RHCSA 8 Exam Practice Question 2
RHCSA 8 Exam Practice Question 3
RHCSA 8 Exam Practice Question 4
RHCSA 8 Exam Practice Question 5
RHCSA 8 Exam Practice Question 6
RHCSA 8 Exam Practice Question 7
RHCSA 8 Exam Practice Question 8
RHCSA 8 Exam Practice Question 9
RHCSA 8 Exam Practice Question 10
RHCSA 8 Exam Practice Question 11
RHCSA 8 Exam Practice Question 12
RHCSA 8 Exam Practice Question 13
RHCSA 8 Exam Practice Question 14
RHCSA 8 Exam Practice Question 15
RHCSA 8 Exam Practice Question 16
RHCSA 8 Exam Practice Question 17
RHCSA 8 Exam Practice Question 18
RHCSA 8 Exam Practice Question 19
RHCSA 8 Exam Practice Question 20
RHCSA 8 Exam Practice Question 21 (Premium)
RHCSA 8 Exam Practice Question 22 (Premium)
RHCSA 8 Exam Practice Question 23 (Premium)
RHCSA 8 Exam Practice Question 24 (Premium)
RHCSA 8 Exam Practice Question 25 (Premium)
RHCSA 8 Exam Practice Question 26 (Premium)
RHCSA 8 Exam Practice Question 27 (Premium)
RHCSA 8 Exam Practice Question 28 (Premium)
RHCSA 8 Exam Practice Question 29 (Premium)
RHCSA 8 Exam Practice Question 30 (Premium)
RHCSA 8 Exam Practice Question 31 (Premium)
RHCSA 8 Exam Practice Question 32 (Premium)
RHCSA 8 Exam Practice Question 32 (Premium)
RHCSA 8 Exam Practice Question 34 (Premium)
RHCSA 8 Exam Practice Question 35 (Premium)
RHCSA 8 Exam Practice Question 36 (Premium)
RHCSA 8 Exam Practice Question 37 (Premium)
RHCSA 8 Exam Practice Question 38 (Premium)
RHCSA 8 Exam Practice Question 39 (Premium)
RHCSA 8 Exam Practice Question 40 (Premium)
RHCSA 8 Exam Practice Question 41 (Premium)
RHCSA 8 Exam Practice Question 42 (Premium)
RHCSA 8 Exam Practice Question 43 (Premium)
RHCSA 8 Exam Practice Question 44 (Premium)
RHCSA 8 Exam Practice Question 45 (Premium)
RHCSA 8 Exam Practice Question 46 (Premium)
RHCSA 8 Exam Practice Question 47 (premium)
RHCSA 8 Exam Practice Question 48 (Premium)
RHCSA 8 Exam Practice Question 49 (Premium)
RHCSA 8 Exam Practice Question 50 (Premium)
RHCSA 8 Exam Practice Question 51 (Premium)
RHCSA 8 Exam Practice Question 52 (Premium)
RHCSA 8 Exam Practice Question 53 (Premium)
RHCSA 8 Exam Practice Question 54 (Premium)
RHCSA 8 Exam Practice Question 55-New Update (Premium)
RHCSA 8 Exam Practice Question 56-New Update (Premium)
RHCSA 8 Exam Practice Question 57-New Update (Premium)
RHCSA 8 Exam Practice Question 58 -New Update (Premium)
RHCSA 8 Exam Practice Question 59-New Update (Premium)
RHCSA 8 Exam Practice Question 60-New Update (Premium)
RHCSA 8 Exam Practice Question 61- New Update (Premium)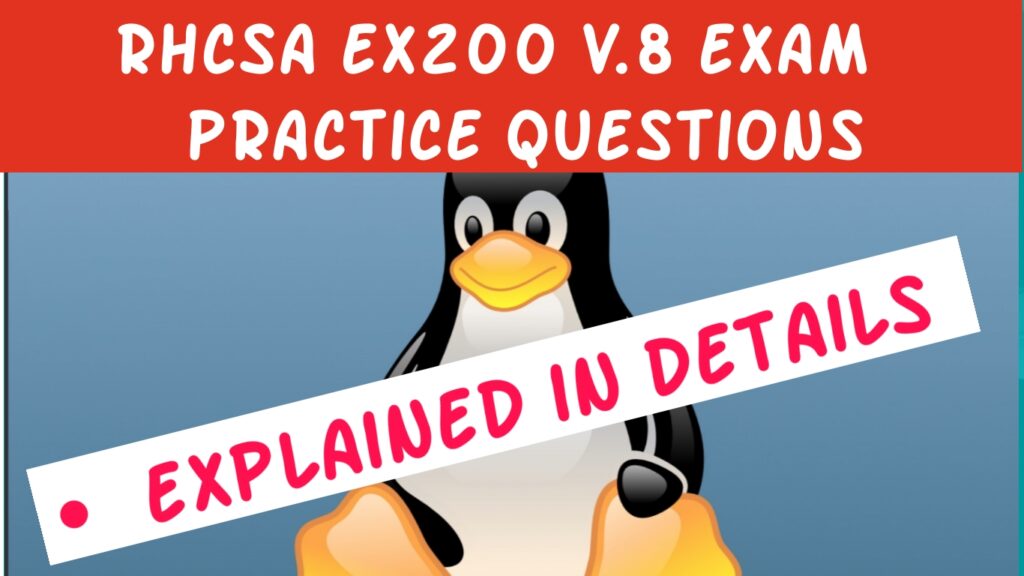 RHCSA 8 EX200 exam practice question