From our research, new users on our site find it challenging to navigate through the RHCSA 8 ex200 exam practice questions & answers (December, 2022)
Hence, we have decided to share the links in just one post, as usual, the same way we did for the Learn Linux From Scratch Series and the RHCSA 8 Course Series.
Please note; at the end of every lesson, you can also click the link to watch the lesson videos. You can also subscribe to our YouTube channel or our newsletter to get updates on new questions and the RHCSA 8 Examination.
Don't forget to turn on the notification button when you subscribe to our YouTube channel. Thanks.
You can also get the Premium practice questions and answers here and enjoy the benefits of premium.
RHCSA 8 Exam Practice Question 1
RHCSA 8 Exam Practice Question 2
RHCSA 8 Exam Practice Question 3
RHCSA 8 Exam Practice Question 4
RHCSA 8 Exam Practice Question 5
RHCSA 8 Exam Practice Question 6
RHCSA 8 Exam Practice Question 7
RHCSA 8 Exam Practice Question 8
RHCSA 8 Exam Practice Question 9
RHCSA 8 Exam Practice Question 10
RHCSA 8 Exam Practice Question 11
RHCSA 8 Exam Practice Question 12
RHCSA 8 Exam Practice Question 13
RHCSA 8 Exam Practice Question 14
RHCSA 8 Exam Practice Question 15
RHCSA 8 Exam Practice Question 16
RHCSA 8 Exam Practice Question 17
RHCSA 8 Exam Practice Question 18
RHCSA 8 Exam Practice Question 19
RHCSA 8 Exam Practice Question 20
RHCSA 8 Exam Practice Question 21 (Premium)
RHCSA 8 Exam Practice Question 22 (Premium)
RHCSA 8 Exam Practice Question 23 (Premium)
RHCSA 8 Exam Practice Question 24 (Premium)
RHCSA 8 Exam Practice Question 25 (Premium)
RHCSA 8 Exam Practice Question 26 (Premium)
RHCSA 8 Exam Practice Question 27 (Premium)
RHCSA 8 Exam Practice Question 28 (Premium)
RHCSA 8 Exam Practice Question 29 (Premium)
RHCSA 8 Exam Practice Question 30 (Premium)
RHCSA 8 Exam Practice Question 31 (Premium)
RHCSA 8 Exam Practice Question 32 (Premium)
RHCSA 8 Exam Practice Question 32 (Premium)
RHCSA 8 Exam Practice Question 34 (Premium)
RHCSA 8 Exam Practice Question 35 (Premium)
RHCSA 8 Exam Practice Question 36 (Premium)
RHCSA 8 Exam Practice Question 37 (Premium)
RHCSA 8 Exam Practice Question 38 (Premium)
RHCSA 8 Exam Practice Question 39 (Premium)
RHCSA 8 Exam Practice Question 40 (Premium)
RHCSA 8 Exam Practice Question 41 (Premium)
RHCSA 8 Exam Practice Question 42 (Premium)
RHCSA 8 Exam Practice Question 43 (Premium)
RHCSA 8 Exam Practice Question 44 (Premium)
RHCSA 8 Exam Practice Question 45 (Premium)
RHCSA 8 Exam Practice Question 46 (Premium)
RHCSA 8 Exam Practice Question 47 (premium)
RHCSA 8 Exam Practice Question 48 (Premium)
RHCSA 8 Exam Practice Question 49 (Premium)
RHCSA 8 Exam Practice Question 50 (Premium)
RHCSA 8 Exam Practice Question 51 (Premium)
RHCSA 8 Exam Practice Question 52 (Premium)
RHCSA 8 Exam Practice Question 53 (Premium)
RHCSA 8 Exam Practice Question 54 (Premium)
RHCSA 8 Exam Practice Question 55-New Update (Premium)
RHCSA 8 Exam Practice Question 56-New Update (Premium)
RHCSA 8 Exam Practice Question 57-New Update (Premium)
RHCSA 8 Exam Practice Question 58 -New Update (Premium)
RHCSA 8 Exam Practice Question 59-New Update (Premium)
RHCSA 8 Exam Practice Question 60-New Update (Premium)
RHCSA 8 Exam Practice Question 61- New Update (Premium)
RHCSA 8 Exam Practice Question 62– New Update (Premium)
RHCSA 8 Exam Practice Question 63- New Update (Premium)
RHCSA 8 Exam Practice Question 64- New Update (Premium)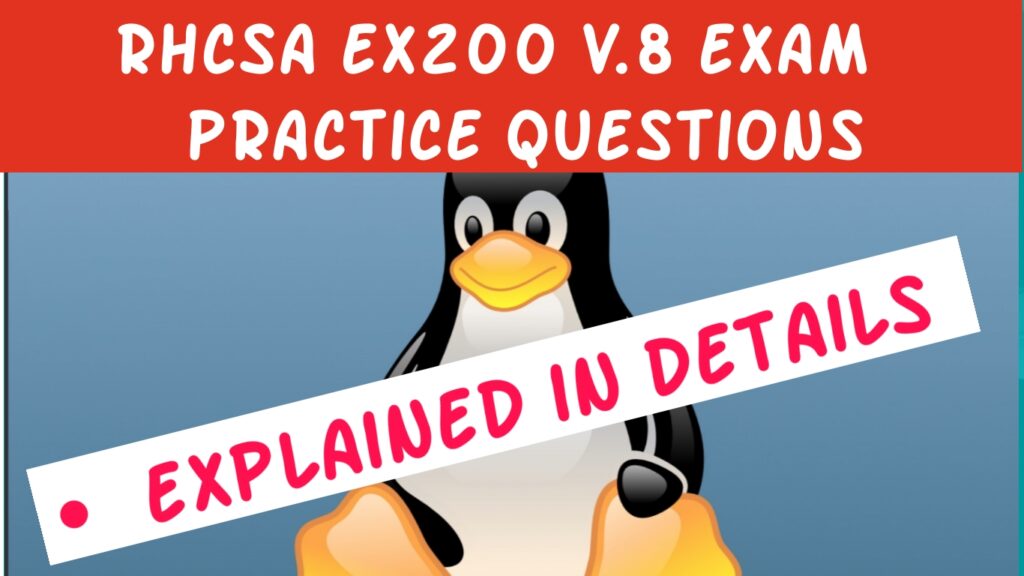 RHCSA 8 ex200 exam Practice Question Playlists
RHCSA 8 EX200 exam practice question